Introducing Volt Founder - Colin Darby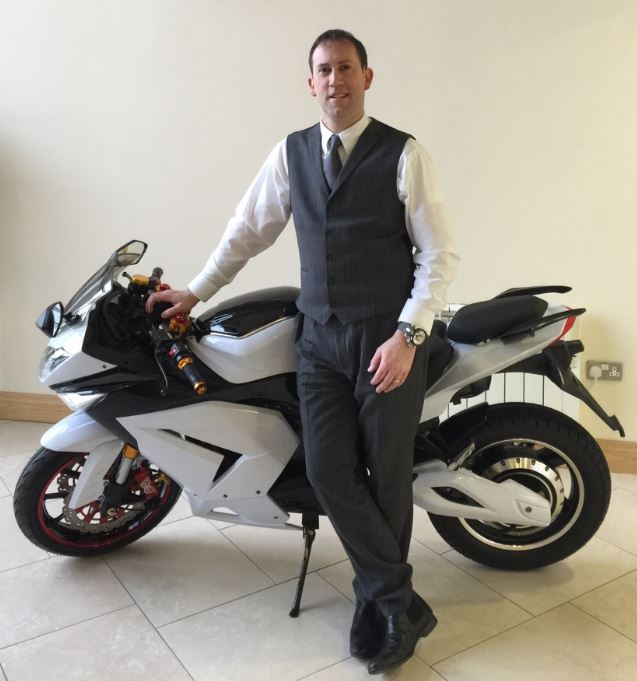 Sunday Business Post - 8 March 2015 by Elaine O' Regan
A Wexford entrepreneur, Colin Darby, is risking a "significant amount" of his own money to bring to market an Irish-made range of electric motorbikes and scooters.
However, he is confident that he has identified an emerging market for electric two-wheelers for urban commuters. Darby began researching the market two years ago and exhibited the range of five Volt vehicles at last weekend's Carole Nash Irish Motorbike and Scooter Show in Dublin.With Volt prices ranging from €2,500 to €9,000, his play for a share of a market dominated by big names is not without risk.
However he's confident that he is ahead of the curve in launching a full range of electric models at a time when established brands such as BMW and Harley Davidson are still, as he put it, "dipping their toes in the water".
"There is no other company that we know of that has a full range for different tastes and that's what we wanted to do," said Darby. "BMW have their C evolution electric bike, and Harley Davidson have Project Livewire. "They know they have to start moving on it, but we are a little bit ahead of the curve."
"In terms of car design, the US wouldn't be at the forefront, but then you have the likes of Elon Musk and Tesla, which are light years ahead of many others in electric car technology."They have some amazing cars – the kind you really want to drive. That's what really drove me. I wanted to come up with a range of bikes that people really want to drive," he said. In his endeavour to design a range of electric motorbikes and scooters with aesthetic appeal, Darby was influenced by electric car manufacturers in the US
After researching the electric motorbikes already on the market, Darby moved on to more practical considerations.
"I began to look for component manufacturers. China is the largest producer of lithium batteries, for example, so you're flying backwards and forwards, sourcing manufacturers, getting all the parts and components together," he said. Darby's designs are undergoing EC Whole Vehicle Type Approval and he is gearing up to launch the Volt Motorcycles website, with plans to accept his first orders within the month. For time-poor commuters grappling daily to get around congested cities, he believes electric motorbikes hold innate appeal, combined with eco-friendly credentials.
"Electric cars are great, but motorcycles have a lower price point," he said. "They don't need left- or right-hand drive, and they can help aid congestion, because you can just cut through the traffic."
Design is a priority for Darby, who has designed Volt's 220 model to resemble a high-end racing bike, for example, with a top speed of 100kph, and a standard range of 120km per single charge. "I would describe the range as 'exciting and sexy', that's what people respond to,'" he said. "If you walk into a computer store and you look at various laptops, you would generally go through the spec for each model. "When you're choosing one model over another, and you find that both will basically do what you need them to, it's really your emotions that will influence your final decision. "That's why people will buy one car over another, or an Apple iPhone over another product.
"The design – the look and the feel – makes it something you want."
Volt models can be recharged within four to eight hours using a standard household electric socket, according to Darby.
Nine people are working on the Volt project, including full- and part-time staff and contractors.
Darby is looking for external investment to ramp up production in the year ahead and said he would consider moving the operation to Britain if government support was not forthcoming here.
"Our tagline, 'driven by technology', sums me up entirely. God love them, anyone who deals with me knows it," he said.
"If there's a gadget out there, it would be rare that I don't know about. It's something that drives me personally because the only direction we can go is to the future. "We learn from the past, from our mistakes, but we can only go forward."
===========================================
Bike Buyers Guide - June 2015 by Paul Browne
On a recent trip to the 'sunny south east' we stopped off at Volt Motorcycles, the first Irish motorcycle manufacturer to build bikes on these shores in over 100 years. The full fleet was on view and company MD, Colin Darby, was on hand to show us around.
The flagship of the new range, there are five bikes in all, is the Volt 220. The 220 is the sportsbike of the range. The bodywork is all clean lines with integrated indicators, a generous rider seat and a smaller pillion pad. The brakes are a combination of radially mounted calipers and wavy discs. The clocks are simple and easy to read on the move and since the 'tank' isn't really a tank there is a generous stowage space exactly where the weight would never be felt.
Small touches such as detailed wheel rims and integrated grab bars show that a lot of attention went into designing the machine. My anticipation for battery-powered vehicles is based on much older design and I'm impressed firstly with the compact size of the bike. It definitely isn't any bigger than a 250 or perhaps even a 125 sports bike. The really striking thing is the weight, or lack of it, with the bike coming in at only 150 kilos.
The headlight is a weight and energy saving LED unit and the afore mentioned brakes are fitted with ABS on either end. Interestingly the bikes power source offers a range of 140 kilometres, which can be upgraded to 200 with relative simplicity.
This power source is a lithium battery that takes six hours to charge from completely flat. It charges through a standard three pin socket, no special plugs or power points are required all the rider needs is a simple domestic socket. The charging unit can also handle an extension cable.
It needs no fueling, no oil changes, and no engine servicing since it doesn't have one! The other obvious but still striking fact is that the bike doesn't make any noise other than the sound of the tyres rolling along the blacktop. With no engine or exhaust they make for a socially responsible ride as well as an environmentally friendly one.
To fire the machine up simply flick a switch as you would turning on a light and twist the throttle. Power delivery and acceleration are instant and brisk with the bike taking off cleanly. The suspension on both ends is fully adjustable and the brakes are both powerful and predictable.
Being electric the bike has linear power delivery and such doesn't need any gears or clutch. The lever on the left is for the back brake, as it would be on a scooter and makes for a very easy riding experience. I spent several hours on the machine and was more than impressed. I was strangely proud, even though I have nothing to do with the company, of the fact that these bikes are being made here. Big oil is on the way out and electric vehicles will be a part of all our futures.
Colin and his team are in the process of setting up a dealer network here and across Europe. If you're interested in becoming part of this success story take a look at www.voltmotorcycles.com and drop them an email.
---------------------------------------------------------------------------------------------------------------------------------------------------------------------------------------------------------------